1. SCHMERSAL . supplier introduction
In the field of machine safety, Schmersal is one of the market leaders. With more than 25000 safety devices produced. Schmersal also proposes to offer systems solutions for the safety of machines and people.
2. The reason New OCean recommends products from SCHMERSAL
When observing products from Schmersal, users will easily notice a number of outstanding features:
Guaranteed moisture-proof, durable with specialized cleaners: IP69K standard protection class against moisture. Water jet resistant up to 80bar (800k Pa) and heat resistant up to 800C., sustainable with specialized cleaners: IP69K standard protection class against moisture. Water resistant up to 80bar (800k Pa) and heat resistant up to 800C.
Sustainability in extreme temperatures:before reaching the user, the device must go through a censorship process. Also run extremely rigorous tests in different simulated production environments. And Schmersal finished products successfully pass these tests even under the most unfavorable conditions!
Effective anti-explosion: under certain favorable conditions. Organic dust particles are very prone to fire and explosion hazards. So that standard on equipment meets. The requirement to limit fire and explosion is one of the key requirements. Because Schmersal devices are all ATEX and IECEx certified (standard for explosion-proof electrical equipment).
3. Product portfolio
Schmersal Solenoid Interlock
Schmersal electromagnetic interlock includes 2 series AZM and MZM. They are usually installed with a control device such as fail-safe delay timers. To ensure that the protective devices of related manufacturing machine parts are removable such as doors
Safety Switch
The Schmersal safety device with separate actuators suitable for safety lock switches sliding and hinges ensures the necessary safe opening and closing of the system
Position Switch
The Schmersal position switch is a form of Electronic Interlock suitable for installation of sliding/pull security doors. When the machines are in operation, the position switch needs to be activated/closed to ensure the necessary safety.
Pull - wire Emergency Stop Switch
Wire-type emergency stop safety device is applicable to bulky conveyor production machines. As well as no safety protection system. When touching and dragging on any point on the rope. The Schmersal rope emergency stop device will operate. Besides, the production machine/conveyor will stop working.
Emergency Stop Button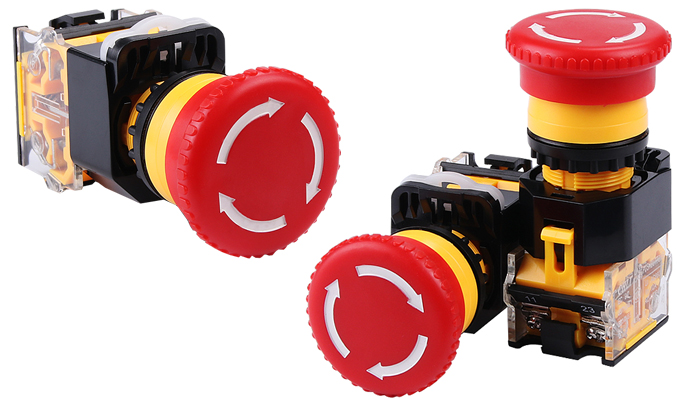 The Schmersal emergency stop button is used to install on important equipment such as control panels/switch boards... of production lines. In the event of a hazard detection on the production line. Schmersal manual emergency stop push button. It will help to immediately stop the entire production system to handle errors in time.
Safety Sensor
All magnetic safety sensors are housed in a thermoplastic housing. They are protected by protection class IP 67 or 65.
Safety Light Curtain
Schmersal protective light screens consist of multiple beams of light and are installed outside hazardous areas. With 2 flexible features: muting and blanking. The protective light curtain can distinguish people and production objects.